Ok, /t. thought Lon should get equal time. Lon is the werewolf /t. has living in his house. Here is a picture of Lon.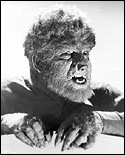 As you can see he is really scary looking.
One day /t. and Little Lamb met. They liked each other so much they decided they would share their blogs together. The lambs and I were already at Little Lamb's blog. She moved the lambs over to /t.'s blog. Lon volunteered to shepherd the lambs. It wasn't too bad with a werewolf for a shepherd. The scary part for Little Lamb and her lambs is when /t. put lamb carcasses in with the lambs. Then the lambs started to disappear one by one. That scared Little Lamb and Dolly so they all moved back here to Little Lamb's blog.
/t. and Little Lamb are still friends and visit each other on a regular basis.
And while I'm at it, let's straighten a few things out. There are some of you who think I'm a little, well, you know. You may have seen me with another turtle at some time. I was only rescuing him from the water. He was starting to drowned. So I gave him mouth to mouth. I didn't know it would cause such a stir in the blog world. And yes, I was rescuing that lamb from drowning too. That's my story and I'm sticking to it.