Do you know what happened in "Lamb Chop" the movie? Little Lamb had all sorts of adventures. She was visiting some friends and she ate a poisoned apple. Some friends they were giving her a poisoned apple. She fell into a deep sleep. Then her prince in shining shell came and gave her a kiss. Seymour is Little Lamb's hero.


Then she and Seymour went on a walk and got lost. Seymour left bread crumbs before they started their walk and when they turned around the bread crumbs were all gone. The birds ate them. They found this cabin and went inside. They found out a witch lived there. The witch wanted to make lamb and turtle stew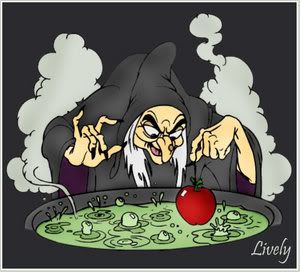 So she put both of them in a cage. Little lamb was scared.

She turned to Seymour and asked, "What are we going to do, Seymour? We're going to end up in that witches tummy!" Seymour said, "Oh no we're not! We've got to find a way out of here!"
Just then there was a knock on the door. The witch pretended not to hear. Someone opened the door. It was a man. This man was very familar to Seymour and Little Lamb. He found them because he knew they were prone to wander. /t. poured water on the witch and rescued Seymour and Little Lamb.